Upcoming Tiki Bar Events
Looking for past events? Check out our Facebook Page.
Carnivore Oak Park
Oak Park Ministry of Sandwiches, etc
Every Saturday @ 5pm
Carnivore Oak ParK is at Hala Kahiki every saturday evening at 5pm. They often stay as late at midnight.
Sometimes they come with the food truck parked out front, sometimes a grill in the patio, and sometimes they even bring the show indoors and set up a sushi Station in the bar.
Monthly Hula Dinner & Show
Last Saturday of Every month
Tickets for our hula show & Dinner will grant you access to a great saturday evening event. a ticket will ensure you a seat and there will be a buffet-style menu featuring luau inspired entreeS and sides included.
Monthly Ukulele Jam Session
Last TUESDAY of Every month
A ukulele jam session is held on the last Tuesday of Every month. Special shoutout to the Wonderwall's Ukulele Meetup Group for coordinating each session's theme. ANyone is welcome (21+). bring your ukulele or simply listen to them jam!
Lowbrow Aloha
Sunday, November 4th, 2018
Lowbrow Aloha features some of the best Lowbrow Art / Tiki Art talents from around the Midwest. It is held three times a year at the historic Hala kahiki tiki bar in River Grove , Illinois. This will be our third and final show of 2018.
There will be a few surprises in store this time around plus, as in passed years, we will once again be having our holiday raffle where the artists donate items to be raffled off for a charity (that has yet to be named ) – So Come on out, warm yourself up and enjoy some tropical drinks in a historic tiki bar while perusing the awesome array of wares and crafts for sale.
New Years Eve Luau
Monday, December 31, 2018
This just in! We will actually be open on New Year's Eve for the first time in over 20 years.
We are still working out the details, but here's what to expect. Seats are limited and tickets will need to be purchased in advance as we will not be open to the public. It'll be a food, drink, and show package spanning from maybe 9pm to 12:30am. We'll have a butcher shop roasting a pig in the patio, at least 3 plated meals paired with cocktails, and we may have some small form of entertainment. We will not be open to the usual extent of bar business. Cocktails will only be served as paired with your course – additional cocktails in between courses may be available for purchase on a very limited basis, if at all. Long story short – and to be blunt – this will not be the event people come to and drink the night into oblivion. It'll be low key, will only be a few hours long, and will be as escape for us like-minded adults to hide from the typical NYE debauchery going on in the outside world =)
This is all preliminary. We are still working out the details – so stay tuned.
-MORE INFO-
Plant Nite
NEXT DATE PENDING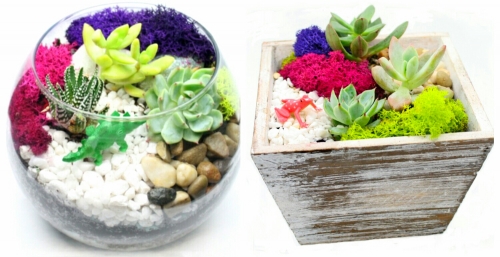 The picture above is what you'll be crafting. Pack yourself a lunch if you'd like – or come full. We're a drinks only establishment!
Pics from Previous Plant NITE EVENTS!
More Events to come…
Stay in the loop – sign up for our Tiki Newsletter.